Well, if it wasn't for those bloggers out there who posted challenges for some of us mommies who stay at home all day, I don't know if I would get any of the housework done! It always just seems like so much more fun to take "before and after" pictures to share and show off what you accomplished.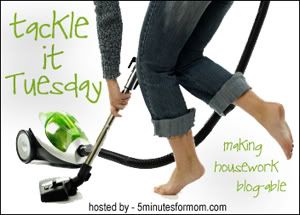 Today, I took part in Tackle it Tuesday sponsored by 5 Minutes for Mom. Every Tuesday, they encourage you to tackle a project in your house (or whatever is on your "to do" list) and show off your accomplishment. There is always so much on my list, but I desperately needed to clean out the pantry! (Does anyone else relate in that this is a hard area to keep organized?) I had already done the "big clean" once before, where I added some organizing containers and such but it really needed to get reorganized so I knew what I actually had in the pantry. It didn't take me that long, but I feel so much better that I accomplished a much needed "to do"!

So, here's to another project crossed off the list!! If you haven't visited my other blog about how I organized my bathroom cabinets and drawers, check it out here. Also, go visit Tackle it Tuesday and see what other mommy bloggers tackled today.