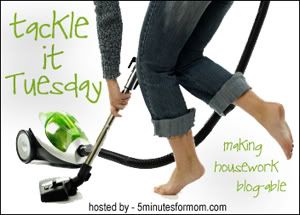 For this week's Tackle it Tuesday I FINALLY tackled all the papers (and more) piling up on our bedroom dresser. It seems like this is always the place to put things to get them out of the way from the other parts of the house. Today was the day I was determined to get it done! So, while the kiddos were taking a nap, I conquered the mass amounts of papers, caught all the dust bunnies lingering around, and did quite a bit of filing. It felt so good to get this all done and check yet another thing off the list.


BEFORE - What a mess!

AFTER - What a relief!

**************************************************

And, to top it off...
I also tackled my son's FIRST haircut. OK, I didn't actually cut his hair, I had to take him to a kiddie cuts place to have it done right, but it's been needing a lot more than a trim for quite awhile now. He looks so grown up!! Only 1 1/2 months until he turns one year old and that's a little hard to believe.
One of his craziest hairdos (July 19)

BEFORE - August 12

DURING - Our little man did a great job!

AFTER - What a handsome boy!

Check out more Tackle it Tuesday hosted by 5 Minutes for Mom here.