Our 4th of July ended up being very low-key and we spent time with just the four of us. At first, we were a bit sad not having any "fun" plans, but in the long run we were so thankful for that time with just us doing whatever we wanted since it will be one of the only Saturdays during the summer where I have nothing happening. So, in hindsight it really was a blessing and we really did have a FUN time!

In the afternoon, we decided to pull out the swimming pool we got 2 summers ago at Target on clearance, and had yet to pull out! Looking at the discount tag, it said it was on clearance at $3.74...score!!

Boy, was this the hit of the day...



Notice how Austin isn't in any of the above pictures? Well, if you remember the last time we tried to play in the water, he was, as usual a bit cautious in the beginning. But, once Daddy rigged up his famous makeshift water slide, he was all in, and they both were in water world heaven!


Gotta love cheap entertainment!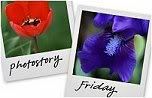 Hosted by Cecily and MamaGeek

Later in the evening, we played with fire, er I mean lit sparklers and then called it a night...I'll share a few highlights from that a little later. For now, I'm off to finish up baking some chocolate chip cookies for the MOPS Rummage & Bake Sale Fundraiser happening all day Saturday! I'll try not to lick the bowl. ;)