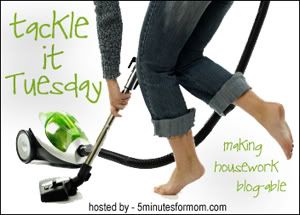 Sadly enough, I feel like I didn't get nearly enough crossed off on my list of things to tackle today and I had such high hopes! I think I started at least half a dozen things, but for one reason or another they never came to completion, but the ONE thing I can say I tackled completely was making one of our family favorites for dinner - chicken enchiladas. It's EASY and delicious, so it was a definite must on the menu tonight.

Chicken Enchiladas
serves 6-8


2 cups chopped chicken
1 can cream of chicken soup
16-oz. container sour cream
1 (4-oz) can green chilies
1 package mozzarella cheese
1 can olives, chopped
6-8 flour tortillas

1. Cut chicken into cubes and cook in frying pan until no longer pink.
2. Mix together chicken, soup, sour cream, green chilies, olives and mozzarella cheese (leave a little olives and cheese remaining for topping).
3. Put spoonfuls of mixture into flour tortillas. Place side by side in a rectangular baking dish.
4. Sprinkle remaining cheese and olives on top of tortillas.
5. Bake in a 350 degree oven for 30 minutes.

And, of course, in true Mikayla and Austin fashion, while I was fixing up dinner...my two little mischie
f makers were adding just one more thing to the list of things to tackle! My goodness, don't us mamas get a break?! Gotta love the curiosity of a child. I wish you could have heard the sounds of the banging of pots and pans, but I'm sure you can imagine!




Things I started to tackle today, but never finished (something all too familiar these days):
*October MOPS newsletter
*decorating our home for Fall (I can't seem to get motivated and I love Fall decor! Maybe that means it's time to get some new things for this year...check out my attempt at my homemade Fall decor here)
*putting together my crafty inspirations binder - an idea I got from here
*dusting

Things I DID tackle today:
*enjoyed my morning Bible Study
*had lunch with Ryan and the kids
*took care of Mikayla's bank account
*snuggled with Mikayla
*encouraged Austin on his new found walking ability (or close to it)
*picked up our farm fresh produce in Newberg
*cleaned out the fridge
*swept the floor
*started the dishwasher


...and soon I will be heading out the door to meet up with girlfriends for some dessert.

So, I guess it was a successful day overall. I just have to look at the whole picture and know that even if it's not something that is "on my list" I can still consider it a tackle and all in a day's work.
To see my 3 month tackling success, check out the
new look to our play room
.